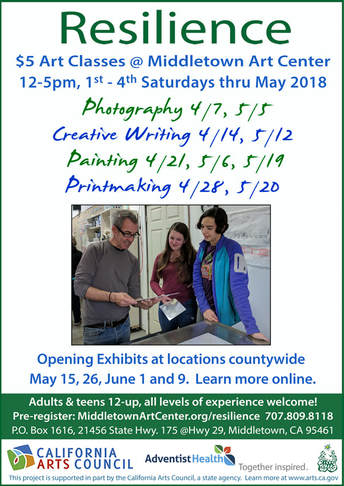 The Resilience workshops at MAC are providing me with a much needed life line! I can afford the classes, art supplies are provided, the teachers create a safe, encouraging and inspiring environment and being part of a group of people engaged in art making all contribute to my healing from fire trauma.
I cannot imagine how I would be recovering without these classes!
- Patti J.


Read about the Resilience Project in the press!
WEEK 2: POETRY/WRITTEN & SPOKEN WORD

Produce a body of work, participate in readings

Sat. April 14, 12-5pmWith Clive Matson
---

WEEK 3: PAINTING Next: Saturday April 21, 12-5pmOpen Studio: Come refine and finish your workGuest Artist 5/6, 12-5pm! Encaustic Collage with Laura KennedyView our work!

---

WEEK 4: PRINTMAKINGNext: Saturday April. 28, 12-5pm Drypoint Etching with Nick Hay
​View our work!
MAC is thrilled to announce that it has received support from the California Arts Council to launch it's year-long project "Resilience". The grant allows MAC to provide broad access to the arts for all residents of Lake County. It's a multi-disciplinary and multi generational project focused on the regeneration of nature after the Jerusalem, Rocky, Valley and Clayton fires. 'Resilience' will act as a mirror of nature, reflecting the revitalization of individuals and the community at large through image and word.
'Resilience' consists of 4 monthly 5-hour workshops that take place each Saturday, June 2017-May 2018.
All classes will run 12-5pm
with a 30 min break . The monthly cycle is as follows:
Week 1- Photography
Week 2- Poetry/Written and Spoken Word
Week 3-Painting
Week 4-Drawing/Printmaking
Classes are geared towards adults of all ages as well as youth 12 and up. From beginner to professional, the community is encouraged to participate in monthly classes in one or all four disciplines. Come to a series, take a few classes from different series or come to one class. Thanks to the Local Impact grant, the cost is just $5 per class or $60 for a complete series in one discipline. Be sure to sign up in advance to reserve your spot as space is limited. The project will culminate in county wide art exhibits and a chapbook (self published book) entitled 'Resilience' to showcase images and words of participants work. Resilience begins with Photography Saturday, June 3.
Each workshop is designed to be an engaging and constructive experience where participants learn and create through the guidance of professional artists, educators, poets, and writers including guest artists. The public will also be invited to hear about the changes we are seeing in the environment from local Naturalists through guided hikes and presentations.
Grants from the Arts Council are competitive and require monetary and in-kind matches from local entities. MAC is very grateful to the California Arts Council as well as St. Helena Hospital, Clearlake, Lake County Arts Council, LARCA, Lake County Rising, The Lake County Land Trust, The Cities of Lakeport and Clearlake, The County of Lake, The Woodland Community College, Lake County Campus, The Hub Lower Lake, Harbor on the Lake, Lake County Economic Development Corporation, Lake County Office of Education, the Middletown Luncheon Club, the Middletown Merchant's Association and many others who understand the power of the arts to elevate, enrich, strengthen, and sustain a community.
Whether you come to one class or all classes in all four disciplines, attend poetry readings, nature walks or exhibitions, we encourage folks to take advantage of this wonderful county wide opportunity. Those interested should register in advance of classes by clicking on links below, by calling 707-809-8118, or by visiting the Art Center in Middletown at the junction of highways 175 and 29 between 11 and 4 Thursday through Sunday.
Here's To Community Resilience!
Learn more about the Resilience project here!
​View photos of our
fieldtrip
to Trailside Park!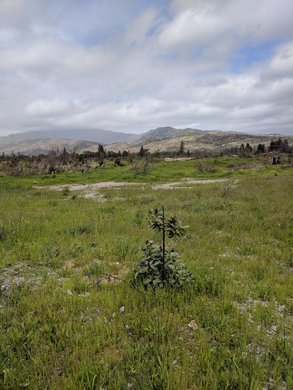 ---